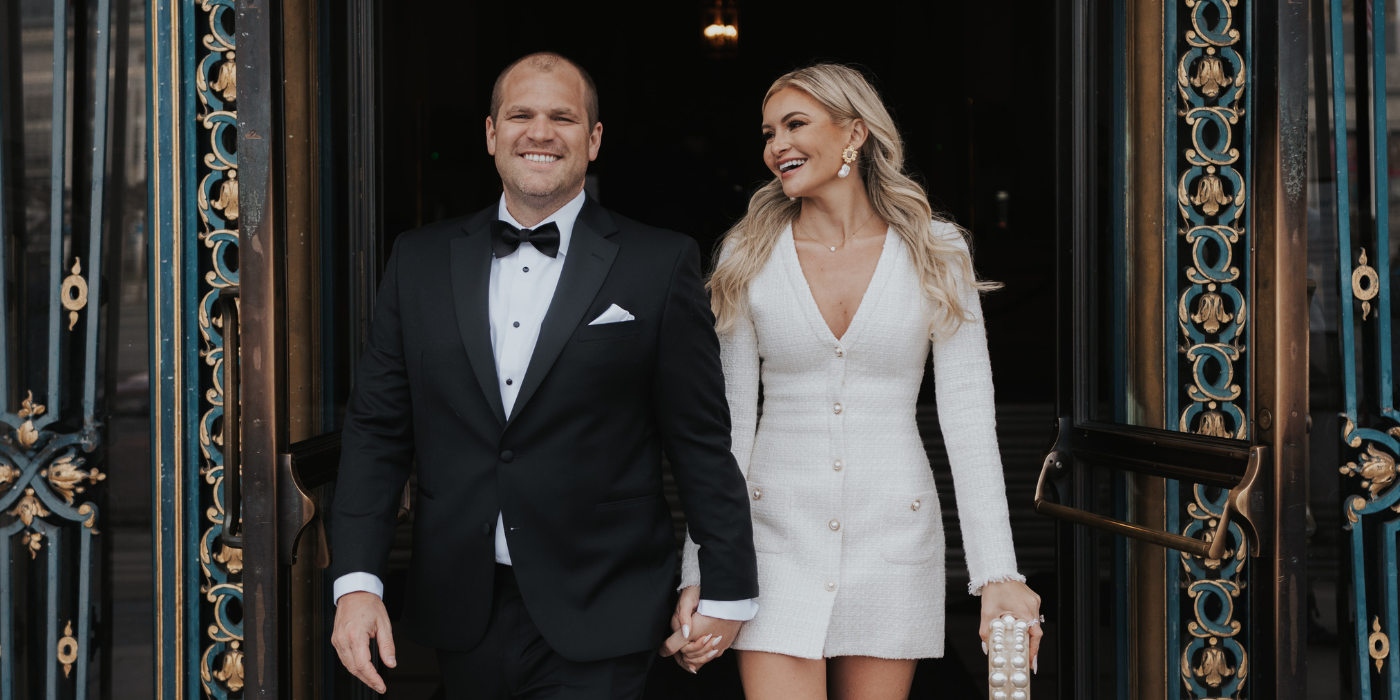 CHARLIE NEFF
Love letters from San Francisco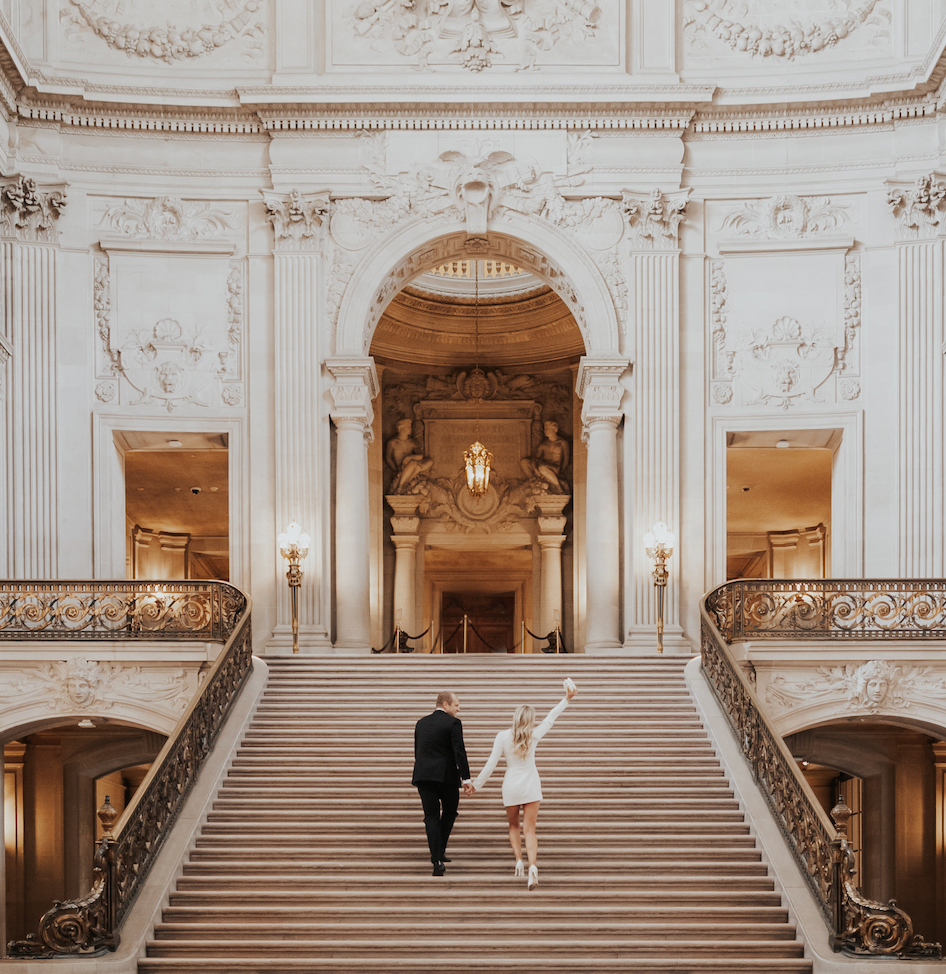 meet the bride
Charlie Neff
Introducing the bride, Charlie, a vision of sheer elegance and refined taste. Her wedding, an enigmatic elopement, embraced the allure of secrecy and intimacy. Adorned with the exquisite Amalita Clear Bridal earrings by Christie Nicolaides, Charlie found herself captivated by their timeless beauty. Against the backdrop of San Francisco City Hall, a historical gem reminiscent of iconic unions, Charlie and Johnny found solace in its timeless grandeur. As Charlie now imparts her wisdom upon soon-to-be-brides, she encourages them to bravely defy conventions and carve their own paths, for it was in the pursuit of their own desires that she and Johnny discovered an unmatched bliss.
"I really wanted an earring that was both timeless and elegant and I felt the Amalita Clear Bridal earring was exactly that. Because the cage around my face held my hair back, I needed an earring that would pop yet maintain a softness. The gold baroque frame with the saltwater pearls were the perfect balance. I have never felt so beautiful!"
Johnny and Charlie happened to share their high school years together, but it wasn't until they bumped into each other at a reunion after their graduation that things took a romantic turn. Their conversation was simply amazing, but Charlie had to cut it short since she had an early work shift the next morning. As they said their goodbyes, Johnny couldn't resist asking where she worked. When Charlie casually mentioned the tanning salon, little did she know that the next day would bring a delightful surprise. Johnny showed up at her workplace with a strawberry smoothie, and as they say, the rest is history!
CREDITS
Bride | Charlie Neff @charlieneff
Groom | Johnny Hentsch @heeeeeresjohnny 
Photographer | Meg's Marvels Photography @megs_marvels 
MUA & Hair | Beauty on Set @beauty_on_set 
Dress | Sau Lee @saulee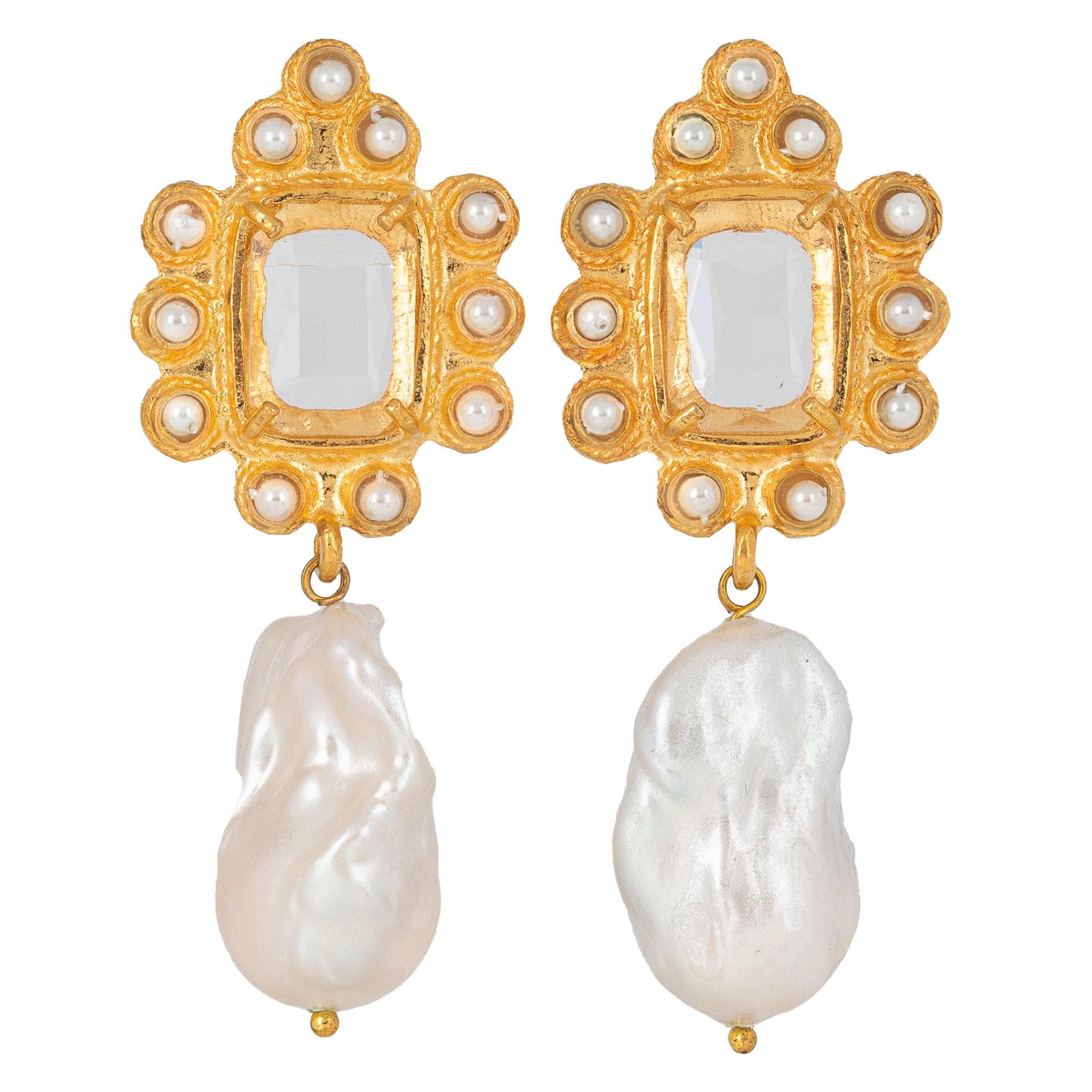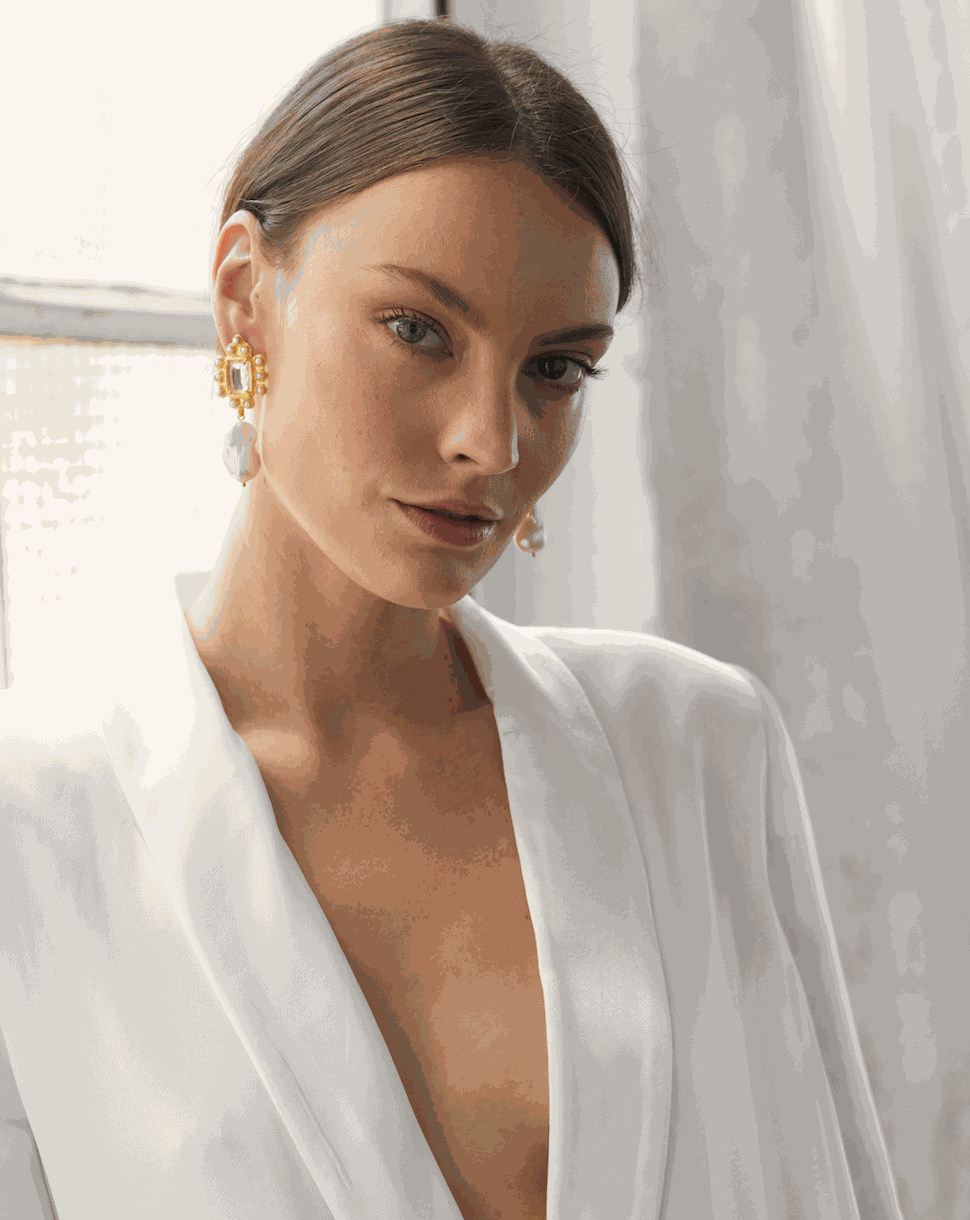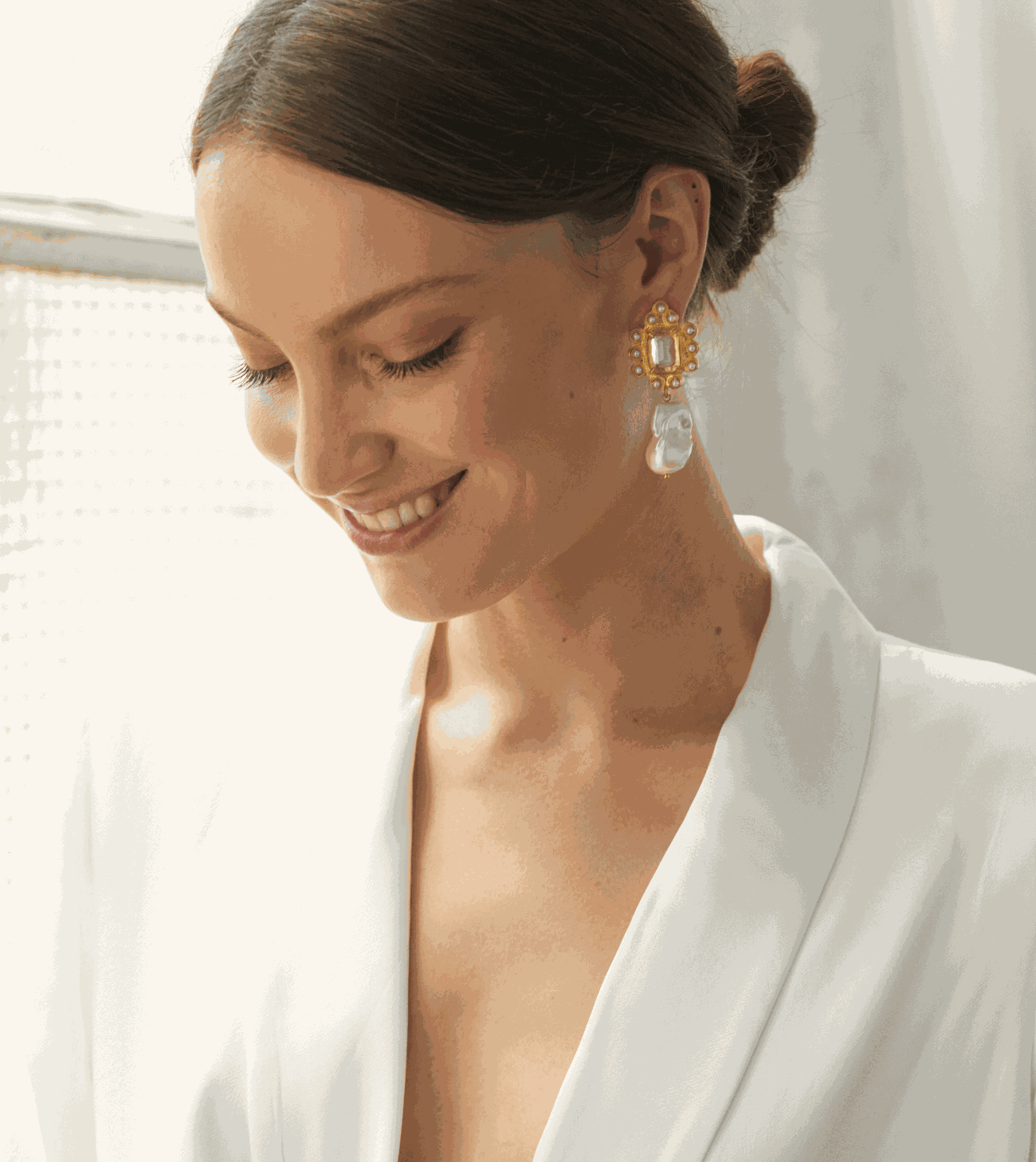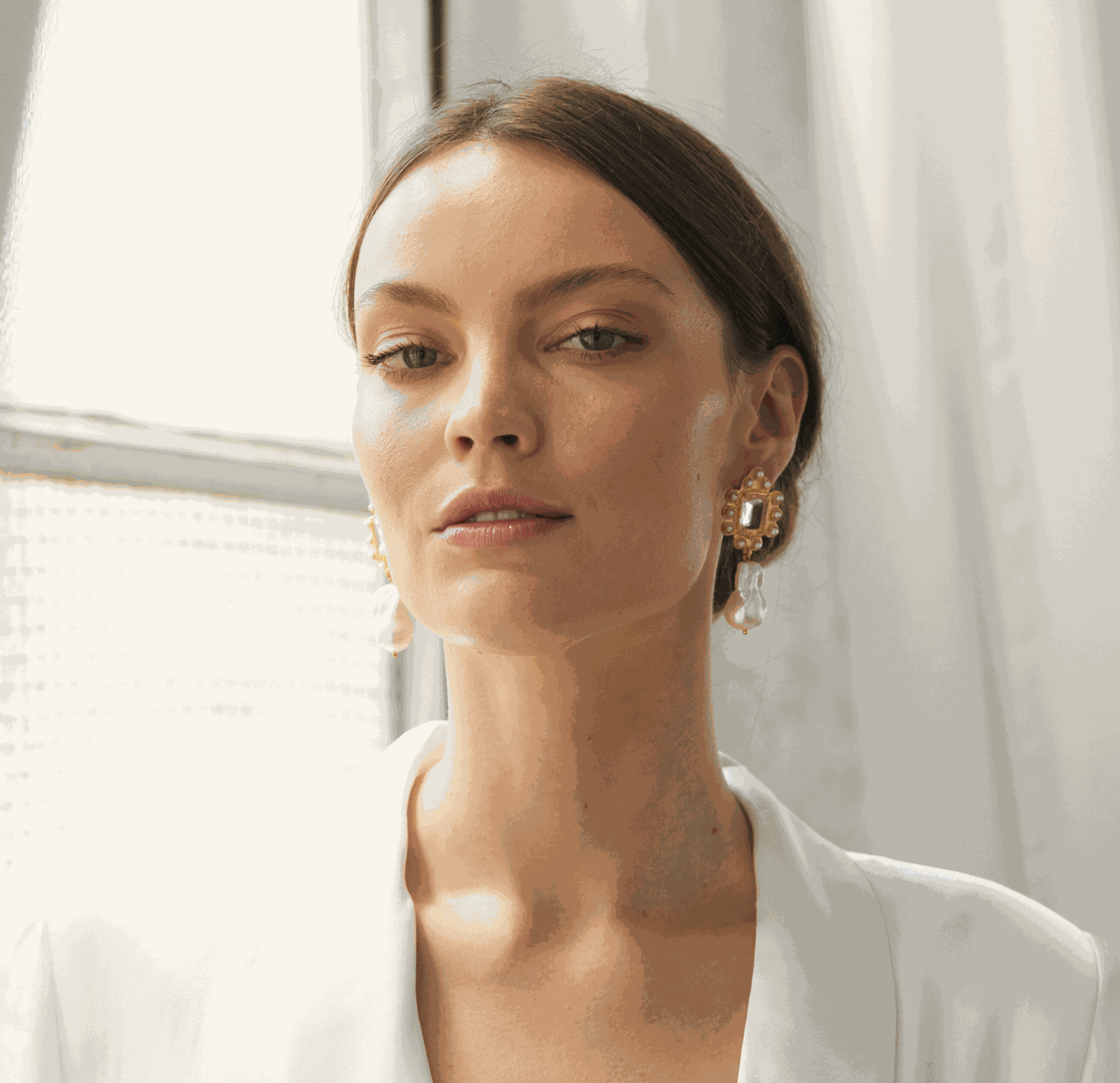 Sale price

$339.00 USD
Regular price
(/)
The handcrafted Amalita Earrings in clear are adorned with emerald cut clear crystal, accented by lustrous, freshwater Baroque Pearls.


The organic structure of our carefully selected Baroque Pearls makes each heirloom piece truly unique, with infinite variations of vivid colour and shape – making your jewellery collection magnificently one of a kind, just like you.

In order to ensure the safety of our pearls while they make their journey to our makers, we choose to use hand-strung pearls to ensure their shine is protected - therefore it is sometimes possible to see small holes in our 'gems from the sea'.

Our pieces are crafted with 24K Gold Plated Brass, which is selected for its structural integrity, and higher durability over its silver alternatives – ensuring our delicate designs are crafted with as much strength as possible.




Dimensions:

Height | 6-6.5cm

Width | 2cm

Weight | Approximately 14-15g per earring

 

Available in both clip fastening & post for pierced ears. Please specify below. 
Immerse yourself in the enchanting allure of the Amalita Clear Bridal earrings by Christie Nicolaides, which effortlessly elevate any bridal ensemble. Charlie was instantly bewitched by the eternal charm exuded by these exquisite wedding earrings, a captivating choice for brides seeking to adorn themselves with radiant elegance.