MARTA SÁNCHEZ
Love letters from Barcelona
meet the bride
MARTA SÁNCHEZ
In her pursuit of wedding perfection, Marta stumbled upon the captivating world of Christie Nicolaides earrings. A chance encounter on Pinterest ignited her passion, and she couldn't shake the thought of these extraordinary pieces adorning her on her special day. Drawn to their unique allure, organic shapes, and exquisite natural pearls, she yearned for earrings that would complement her elegantly simple dress, creating a harmonious balance of grace and individuality. With each handcrafted piece embodying a sense of artistry and unparalleled beauty, Christie Nicolaides became the perfect choice to elevate her bridal ensemble and transform it into a timeless masterpiece.
"One day an image of a girl wearing your earrings appeared in my feed and I just fell in love. I started to look for the brand till I realised you were in Australia. For a month I was trying to take it out of my mind thinking that it was crazy to buy my wedding earrings from a place in the completely opposite part of the world. But I couldn´t..."
The love story began amidst the bustling world of work, where fate orchestrated their encounter. Hailing from Madrid as an Interior Designer, Marta embarked on a temporary venture in Barcelona for a captivating hotel project. Little did she know that this professional journey would also be the backdrop for an unexpected romance. As she oversaw the project's intricate details, the owner of an Iron company responsible for crafting exquisite elements like doors and railings, caught her attention. Unbeknownst to him, she would discreetly search for glimpses of his presence throughout the hotel, his car serving as a subtle sign of his proximity. Unveiling the depth of their connection over time, she discovered that he too would make unnecessary site visits, driven by a desire to catch a glimpse of her. As the project's conclusion loomed, a fortuitous turn of events provided them with the perfect excuse to meet outside the confines of their professional lives. And from that pivotal moment, their enchanting journey together began to unfold.
CREDITS
Bride | Marta Sánchez @spmarta_
Photographer | @el_estudio_weddings
Dress | @andreamorrosatelier
Florist | @flowers_will
Venue | @canribas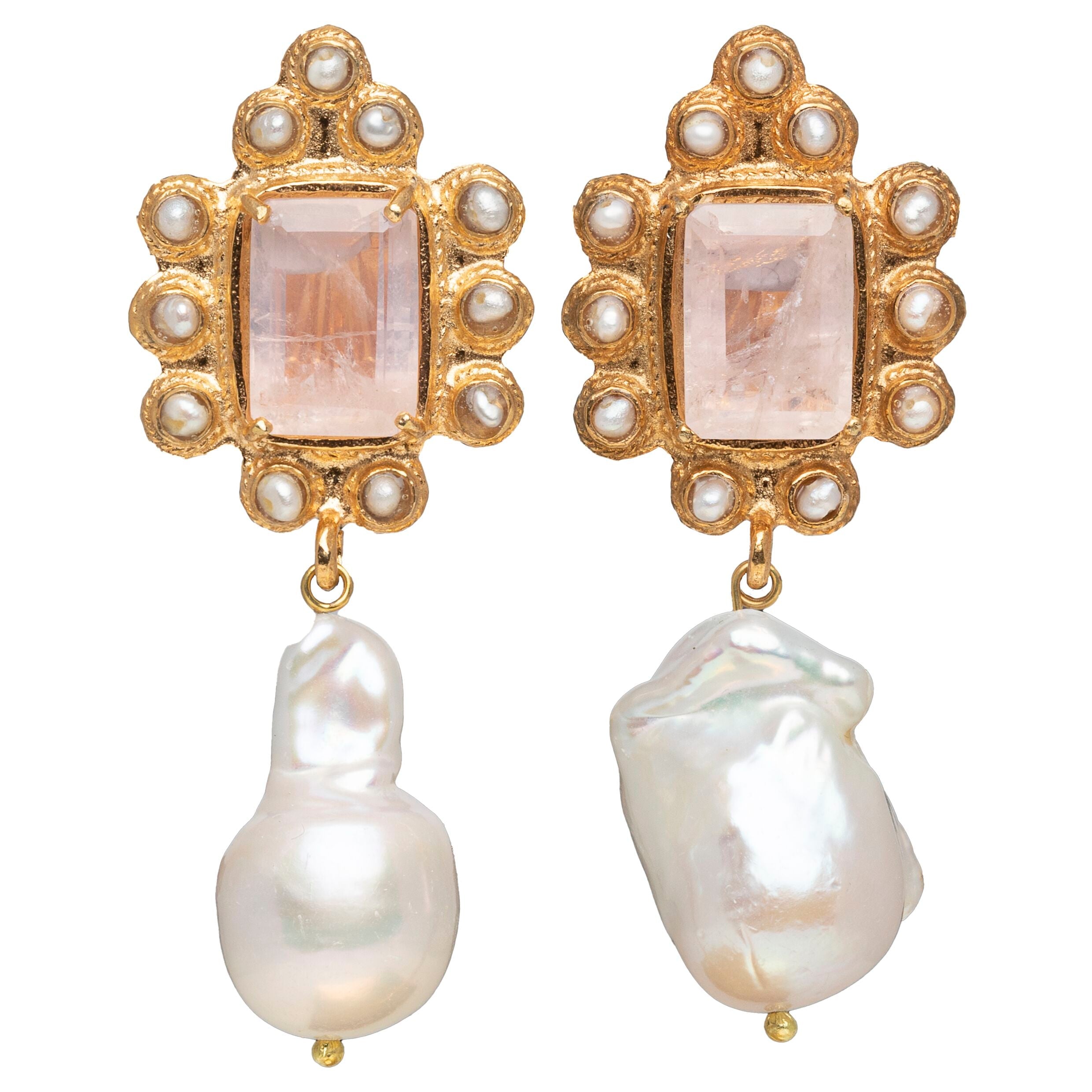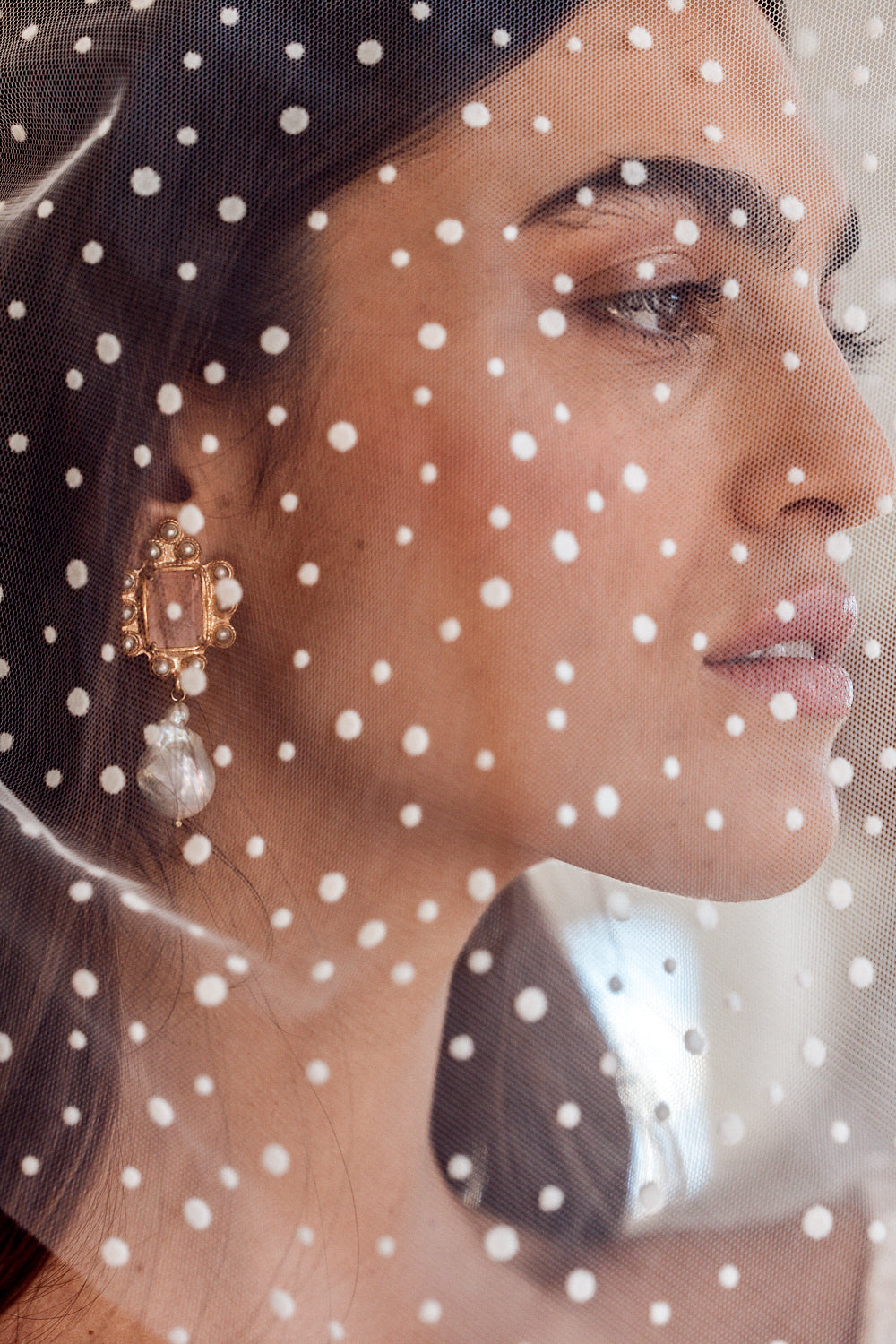 Sale price

$319.00 USD
Regular price
(/)
The handcrafted Amalita Earrings in Pale Pink are adorned with emerald cut rose quartz, accented by lustrous, freshwater Baroque Pearls.


The organic structure of our carefully selected Baroque Pearls makes each heirloom piece truly unique, with infinite variations of vivid colour and shape – making your jewellery collection magnificently one of a kind, just like you.

In order to ensure the safety of our pearls while they make their journey to our makers, we choose to use hand-strung pearls to ensure their shine is protected - therefore it is sometimes possible to see small holes in our 'gems from the sea'.

Our pieces are crafted with 24K Gold Plated Brass, which is selected for its structural integrity, and higher durability over its silver alternatives – ensuring our delicate designs are crafted with as much strength as possible.




Dimensions:

Height | 6-6.5cm

Width | 2cm

Weight | Approximately 14-15g

 

Available in both clip fastening & post for pierced ears. Please specify below. 
Immerse yourself in the enchanting allure of the Amalita Pale Pink Bridal earrings by Christie Nicolaides, which effortlessly elevate any bridal ensemble. Marta was instantly bewitched by the eternal charm exuded by these exquisite wedding earrings, a captivating choice for brides seeking to adorn themselves with radiant elegance.